Whether you are trying to sell your home or just trying to spruce things up for guests, taking the time to add exterior elements to the face of your home will allow it to look more appealing and welcoming. Giving attention to little elements such as the porch of your home will increase the value of your home and give you a competitive edge on other properties. If you're not sure what exactly to do, we have laid out 10 improvements you can make to improve the curb appeal of your porch!
Improve Old Hardware
Small features such as house numbers and light fixtures can be updated and colour-coordinated to give the home an elegant feel. Outdoor wall lanterns can be layered with cozy string lights to further warm up the space. As for house numbers, oiled bronze finishes go well with more traditional homes while brushed nickel finishes suit more modern homes.
Install Colourful Window Boxes
Contrary to its name, window boxes are not limited to just windows. They can be placed on the railings of your porch as railing planters to add some colour to the porch. When choosing a window box, it is important that it is coordinated with the home's trim, shutters and doors to connect the exterior of the home together.
Fill the box with many flowers or plants that allow it to look full and healthy, adding even more life to the property. Flowers like petunias, fuschia, and begonias are popular and easy options for rail planters.
Upgrade Outdoor Furniture
Outdoor furniture can be arranged in many ways to propose an inviting and welcoming essence to guests. If you have a smaller porch, go for chairs and tables that are less bulky but still have the same aesthetic that ties into other elements of your home. In contrast, if you have a bigger porch, separate your outdoor furniture into different zones to make it feel spacious.
When choosing colours, it is important to follow the vibe of your home. Stick with colours that complement other aspects of your home such as your flowers, or ones that contrast your front door to really make it pop. Other accessories like cushions can really enhance the aesthetic of your home with interesting patterns and designs and using bold colours.
Repaint the Porch Floor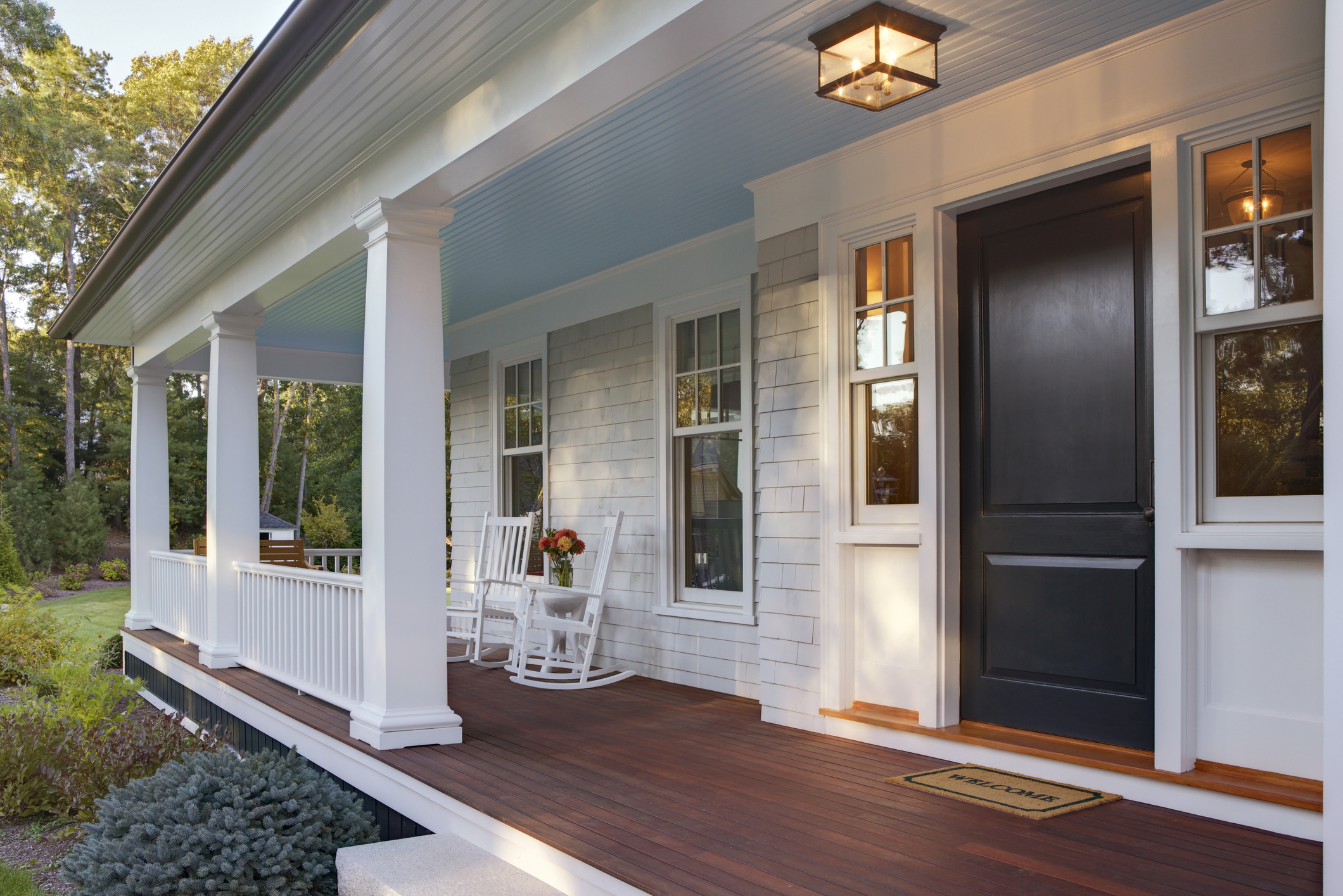 Repainting the porch can be challenging when you don't know which colour to choose. White is a good choice if you want a bright porch and a colour that can't go out of style. Other items with bolder colours will also pop with a white porch. Grey is also a good choice because it brings out the architectural features while also remaining a calm, neutral colour. Other colours like green give your porch more of a pop when coordinated with shutters and trim on the exterior of the home while a colour like navy blue, can neutralize your home while still being a staple to the presence of the home.
Shutters or Accent Trim
Shutters were commonly used for ventilation, privacy and protection, but have now become a source of decoration. Try painting the shutters the same colour as your seating and have the porch the same colour as the siding. This way, the shutters and porch decorations like seating and window boxes can really strike the eyes of those viewing your home, while the actual porch colour can neutralize it all.
Some other shutter ideas include painting your shutters a turquoise against a white house, giving it a beach home vibe. You could also paint the shutters around the porch the same colour as the other features on the porch and paint the upstairs shutters a different, more neutral colour.
Fill Out Your Flowerbed
This one takes a bit more time, energy and continual effort but pays off in the long run. Adding bulk to your flowerbed with colours that match your home shows that every feature of your home was thoughtfully designed. You'll also want to vary the size and height of varying flowers to create different textures. Try adding in some flower pots to your garden for additional flair.
Find Porch Railings that Match Your Style
Porch railings are what people first see when they look at your home, meaning they play a big role in increasing curb appeal. If they are starting to chip and deteriorate, it may be time to freshen it up.
Let your personal style shine through your porch's railings by considering a variety of unique aesthetics. For example, cable railing gives off a clean, modernist vibe while geometric-shaped railing will come off as playful.
Screened-In Porch
Not only is this option good for staying sheltered from the bugs but also stylish too. Not only can you use a screen but many people use stylish curtains to keep their porch looking fresh. This allows the porch to feel like an extended room from the home while also being a calming and relaxing space when you need to get away.
A silver screen will reflect the sun and make the outdoor area even brighter, allowing tons of natural light to pour through. You can get fibreglass screening which doesn't rust or rip easily compared to aluminum screens.
Be Bold with Your Front Door
Renovate the entrance of your home by repainting the front door a fresh colour. You want to make sure to pick a colour that stands out and one that is bold but also coordinated with the other accents of your home. If you're nervous about using a flashy colour, try a more neutral blue or green. Paint is often cheap and simple to do, making it a great choice for improvement and experimentation if you are on a limited budget.
Add an Outdoor Rug
An outdoor rug has many practical benefits as it traps dirt from entering your home, is warmer for your guest's feet than the deck, and can be used for safety if the deck is wet. Another big component of the outdoor rug is the style. Try to look for patterns in the outdoor furniture, maybe on the pillows, and match that to the outdoor rug to tie everything in. You can also overlap two rugs with a patterned rug and a neutral one. This makes the space look bigger than just the size of one rug and creates a stylish two-toned essence.